Overlook Ridge in Little Falls, New York is an unexploited jewel of land nestled in the Mohawk River Valley – an ideal development site for families, commuters, and businesses.
The remaining building lots in Phase II of the development offer an incredible value.  Each lot provides City of Little Falls water and sewer, gas and electric service from National Grid as well as Time Warner and Verizon communications.  You'll also benefit from all the services offered by the City including police and fire protection, garbage pick-up and year-round road care.
There are 4 lots remaining before Phase II is sold out ranging from ¾ of an acre to a full acre.  The map below shows the location of lots 26, 28, 29 and 30 which are currently available.  All feature beautiful views of the valley.
For information or to schedule a site visit, please call Brandon Mosher, (315) 868-4596.
Each lot has all underground utilities including sewer, City water, National Grid electric and gas service and phone and cable access for connection. These lots are absolutely "ready to build".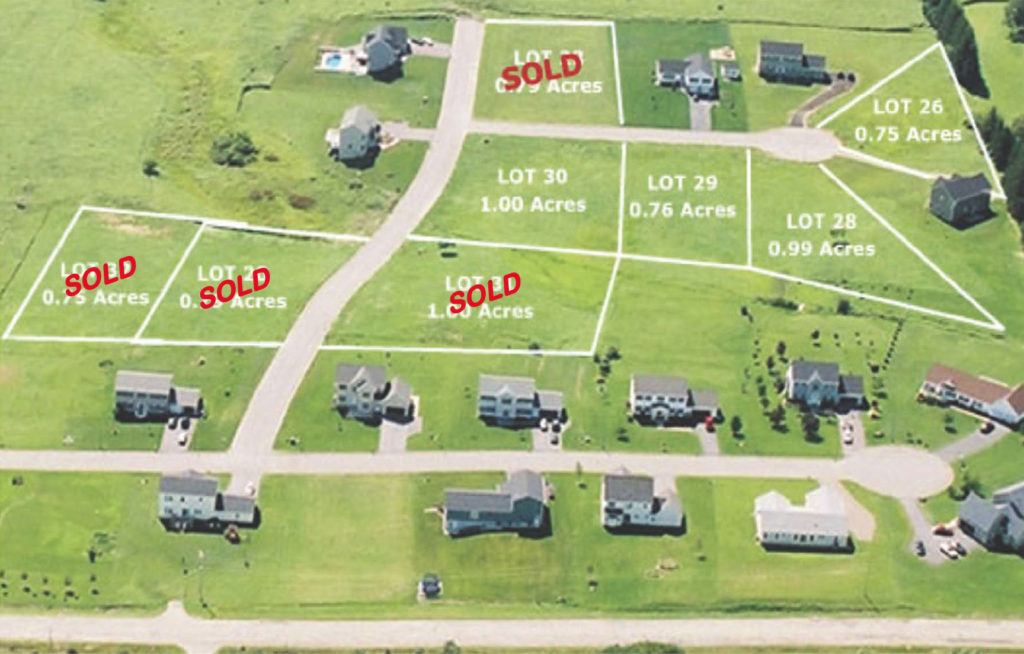 | | | |
| --- | --- | --- |
| Lot Number | Size (Acres) | Selling Price |
| 26 | .75 | $34,995 |
| 28 | .99 | $39,995 |
| 29 | .76 | $34,995 |
| 30 | 1.0 | $39,995 |
When these four lots are sold, the 13 lots of Phase II will be complete and combined with Phase I provide a neighborhood of 32 families.  Once sold, single family homes will continue along the northern perimeter of the property.
Enjoy this view from high above Overlook Ridge and watch a birds eye video of the beauty of your future home.
Deed Restrictions
To maintain the design and lifestyle integrity of the development, we have created a set of deed restrictions that you can review.